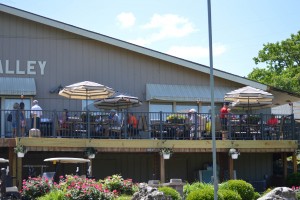 Lake Valley Bar & Grill is located inside the clubhouse at Lake Valley Golf Club and overlooks the golf course. Visitors can look out the windows and enjoy the scenic surrounds of the Lake of the Ozarks area while enjoying their favorite refreshment. Lake Valley's friendly and cozy atmosphere make it the perfect place to finish an enjoyable day of golf. A menu of tasty sandwiches, sides and appetizers offer a variety of choices to satisfy your hunger and allow you nourishment as you rehash your day on the course.
Lake Valley serves lunch starting at 10:00 a.m. and dinner until 7:00 p.m. daily and features a daily lunch special. Some foods and snacks are also available all hours of the day. There is something for everyone to enjoy before, during, and after the round.
Our bar features a full offering of the finest spirits and yes, ice cold beer is available on tap, as well as a good assortment of cans and bottles. Coolers are available to take your favorite beverage with you onto the golf course. Be sure to enjoy a cold beverage on our deck overlooking the eighteenth green. This is a favorite hangout for those wishing to offer their friends a word of encouragement as they finish their rounds. Of course, a little heckling is expected!